It's time to link up with Simply Smithwick for...
Plenty to be

THANKful

for: Thanksgiving Traditions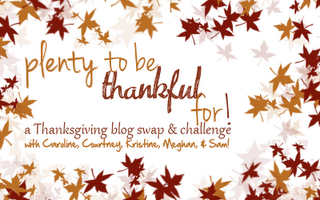 Thanksgiving is always such a busy day because my siblings and I try to see everyone.
We usually start at my dad and step mom's for an early Thanksgiving lunch.
We leave there and head to my aunt's on my mom's side for a quick visit.
We leave there and head to my mom and step dad's for dinner.
And then we sometimes all load up and go to my cousin's house for a evening visit.
Every other year changes a little, as my brothers and sisters that are married usually swap up holidays with my family and their in-laws.
I am planning on spending some time at my mom and step dad's this weekend.
Mom and I have some Twilight, New Moon, and Eclipse to watch.
I will probably do a lot of reading.
We will eat leftover's for days and probably make a trip to the movies (fingers crossed).
We used to go on Thanksgiving night, but have kind of gotten out of that since we have lots of little ones now.
Our traditions evolve everywhere, but one thing always stays the same.
Quality family time
Well that and the abundance of delicious food.

Happy Tuesday lovies!
(It's my Friday and I am ready for a 5 day weekend)
XoXo