It's Thursday!! We all know what that means.
One of my favorite link ups.
It's ok...
That Coral completely chewed up my retainers.
And, yes I still wear my retainers or I did before she chewed them up.
I was so mad at her, but can't blame anyone but my self for leaving them laying around.
She is teething and after the destruction she did to my room this past weekend, I should've learned my lesson.
On a positive note, it was time for new ones and now I have to do it sooner rather than later.
It's ok...
That I have my first official IEP meeting today at 9:45.
Please say a little prayer for me.
I know it will be fine, but I'm so nervous.
I want everything to go perfectly.
It's ok...
That my car isn't doing so hot.
It gets me to and from work which is AMAZING, but it's got a little shake, rattle, and roll to it.
And when you are talking about your car, that's not such a good thing.
Good news is that it is still putting along and hopefully I will get it checked out over the holidays next week.
Sad news is that I was planning on going to Tuscaloosa for the Bama game this weekend, but my car isn't dependable enough to drive that far. TOTAL BUMMER!
It's ok...
That some would consider me a teeny bopper because I love TWILIGHT.
I am so pumped for tomorrow night. Breaking Dawn with the girls!
What else could you ask for?
Maybe that the theater allowed wine...hmm!
Anyways, moving on to the next link up.
Day # 4 of Plenty to be THANKful for with
Caroline
.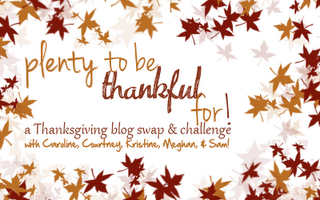 The
reasons
why I
love
blogging.
Memories
Happy almost Friday lovies!
XoXo