5 things I love about Thanksgiving
The Dressing...
The desserts, especially the pecan pie...
the quality
family
time...
(wish it was going to be spent at the beach)
the
CHRISTmas
decorations that will begin to appear...
And the long break from school.
5 day weekend....here I come.
Now it's time to link up with Caroline.
Day 5 of Plenty to be THANKful for.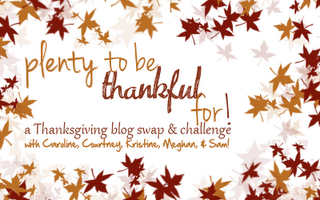 I'm
thankful
to live in the 21st century because...
I could get really technical with this, but it's Friday and I just want to keep it simple.
I love that technology has advanced so much that I can do almost everything from my iPhone. The possibilities!!
I love that I never have to go to the bookstore to buy a new book...my kindle and even my kindle app on my phone has made my reading habit so much more convenient. And the fact that you can share accounts with friends is such a nice way to save money.
I love that pinterest was created. Pinterest is my go to for
EVERYTHING!
Happy Friday lovies.
It's jean day at school, which for me means velour suit.
Ahh! So comfy and warm.
XoXo