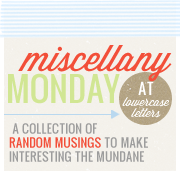 1. This is what I woke up to this morning...
To say that I'm sick of snow, would be the understatement of the year. I love the snow, but I like it in small portions. The ground has been covered in snow since I moved here in December. I'm over it...
2. But I'm getting on a plane tomorrow and flying here
West Palm Beach!
3. We are staying in Jupiter and this is the forecast for the week...
I am so excited for shorts,
Bathing suits,
And flip flops!!!!
4. I am excited to lay in the sun and finish this book!!
I have only read the first five chapters so far, but I love it!!
5. My DVR is calling my name...I'm so excited for tonight's episodes of 90210 and The Bachelor!!! Ahh, can't wait!
6. I recently watched Sex and the City
1 and 2 and I'm obsessed!!
7. I'm also obsessed with my new sandals that I picked up at Target today for $11!
FYI I'm still loving my green toes!!
Moving on to day 5 of the 30 day photo journal.
A picture of my favorite memory.
Meet Buba, my grandmother. She was my everything and this picture has lived on my nightstand since she passed away. I have the greatest memories that involved my buba and I am so thankful for the relationship we had. I love you and miss you with all my heart. I can't wait until the day that we meet again!
Happy Monday friends!
XoXo
- Posted using BlogPress from my iPhone