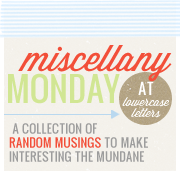 1. I'm so excited for The Bachelor and 90210 tonight. I'm even more excited to watch them on my new DvR!! I really hope Michelle goes home...even though I know that won't happen. Reality tv loves drama!
2. I went skiing yesterday only 30 minutes from where I live. It was so much fun and I plan on doing it on a regular basis!
3. I made chicken spaghetti tonight for my work family and 2/3 of the boys actually liked it...success!
4. I met a new friend, Lenka, from Czech Republic. We hung out Saturday night and had so much fun!!
5. We are supposed to get MORE snow. Don't get me wrong, I love snow, but enough's enough. It's supposed to start at 3AM Tuesday morning and end at 7PM on Wednesday. Snow day is to be expected...good thing I got stuff to make rice krispy treats with the kids. Thats at least 20 minutes of entertainment.
5. I'm flying to Bama on Friday! I can't wait to visit my family and friends and I especially can't wait to get my hands on my new niece, Blakely.
Happy Monday!!
XoXo